Top Rome attractions to see during the 6 Nations rugby
The 6 Nations rugby tournament sees fans from across Europe flock to Rome to cheer on their team. There is no doubt that there is always plenty of action on the pitch to enjoy, but if you're spending a few nights in Rome for the 6 Nations then you may be wondering what are the top Rome attractions that you should see.
For History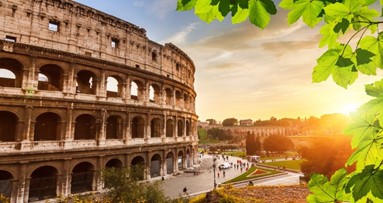 Known as the Eternal City, it would be impossible to visit Rome and not feel the thousands of years of history that this city has witnessed. Around every corner you can find an interesting historic building, relic or archaeological site.
These are the top historic attractions to see during the 6 Nations rugby in Rome:
Colosseum and Roman Forum
Arguably Rome's most iconic attraction, the Colosseum is a sight to behold. Its construction was started in 72 AD under the Emperor Vespasian and was completed in 80 AD under Emperor Titus. It is epic in size and was once capable of seating 50,000 spectators for its gory gladiatorial contests and public spectacles.
The Roman Forum, meanwhile, sits in the same archaeological park as the Colosseum and is a rectangular plaza that was once the hub of Roman life. Here, you can discover the ruins of several buildings integral to the Roman Empire and imagine what life must've been like all those years ago.
The Diocletian Thermal Baths
The Diocletian Thermal Baths were established by Emperor Diocletian, who reigned between 284 and 385 AD. The emperor wanted a huge public thermal bath that could be used by the Roman population who lived in the north-east suburbs and, after 8 years of building, he got his wish and these huge thermal baths were opened. They were bigger than the Baths of Caracalla and were in operation for about 100 years. Today, they provide a fascinating insight into the daily life of the ancient Romans.
Aventine Hill
There are plenty of historic attractions to enjoy around Aventine Hill. In particular, we think you'll enjoy Santa Prisca, where excavations have revealed a Roman house. The history of Santa Prisca is quite fascinating – she was sentenced to death by Claudio and thrown to the lions but, miraculously, the animals left her unharmed.
Aventine Hill is also home to several beautiful temples, our favourite of which is the Santa Sabina Temple.
For Architecture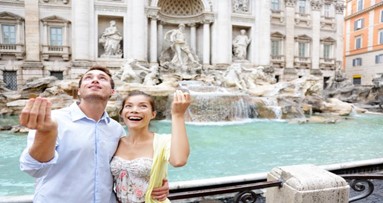 As well as years of history, the Eternal City has some of the finest architecture to enjoy during your 6 Nations rugby weekend in Rome.
Trevi Fountain
The Trevi Fountain is one of Rome's most recognisable attractions and a must-see during your rugby weekend in Rome. The fountain was designed by Italian architect Nicola Salvi and completed by Pietro Bracci. It is the largest Baroque fountain in Rome and has appeared in several films, including La Dolce Vita.
It is customary to throw a coin in the Trevi Fountain while in Rome and you can read more about this tradition on this travel blog.
Pantheon
The Pantheon in Rome is a former Roman temple and is famous for its central opening (oculus) to the sky. It is thought to date back to 126 AD, having been constructed under the guidance of Emperor Hadrian. Although it is now almost 2000 years old, the Pantheon's dome is still the world's largest unreinforced concrete dome!
Note that the Rome Council recently unveiled plans to charge entry to the Pantheon, although this is expected to only be a few euros.
Iconic Landmarks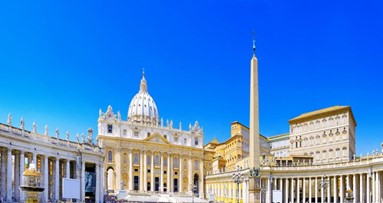 Along with the Colosseum and Rome's classic attractions, there are several other iconic landmarks that you cxan't miss during your rugby weekend in Rome.
Spanish Steps
The Spanish Steps are among the top attractions in Rome, having starred in many Hollywood movies. The 135 steps slope between Piazza di Spagna and Piazza Trinità dei Monti, and date back to the 18th century. In recent years, the Spanish Steps have been closed to the public due to important restoration work, but they are open once again thanks to funding by Bulgari.
Vatican City
Finally, no trip to Rome would be complete without a visit to the stunning Vatican City. Here, you can explore the Museums, where Popes have gathered priceless art, rich tapestries and ancient relics over the years for you to enjoy.
Vatican City is also home to two iconic Rome attractions that are not to be missed on your rugby weekend: St Peter's Basilica and the Sistine Chapel. The ceiling of the Sistine Chapel was of course famously painted by Michelangelo.
Find out why thousands of people choose us for their Rome 6 Nations rugby package – call an expert member of our team on 01223 637331 or click here to send an online enquiry.
Search Keywords
Enter keywords below to perform a search within the events to find more relevant posts