Best restaurants in the Rome Termini area
If you are travelling to Rome for the 6 Nations with us, then you will likely find that your hotel is located in the Rome Termini area. We love this area of Rome due to its vibrant atmosphere, central location close to popular attractions and the quality of the hotels that can be found in Termini.
Many of our customers travelling to the 6 Nations in Rome ask for restaurant recommendations and want to know which are the best restaurants in the Rome Termini area. Here are some of our top picks, including places where you can pick up a slice of pizza in a casual pizzeria and refined restaurants that are perfect for a romantic meal.
For pizza…
Sfizzio Pizza is more than just a pizzeria. This casual eatery serves a range of light bites that are great for lunch or if you just want to grab something quick. As well as a selection of pizzas, which are cooked in an authentic wood oven, you can get generous salads, piadina (a type of Italian flatbread), traditional Roman cakes and breakfast to take away. Keep in mind that this is a typical Roman pizzeria, so the atmosphere is very casual, with dishes served on a tray with paper napkins.
Where: Via Giovanni Giolitti
Restaurant website: http://www.sfiziopizza.it/joomla30/index.php
For pasta…
Trattoria Dell'OMO on Via Vicenza is popular with the locals and described as a "hidden gem" by tourists that stumble across this unassuming restaurant. Favourite dishes include the homemade pasta served in a truffle sauce, fried courgette flowers and, of course, Italian carbonara.
Where: Via Vicenza
Restaurant website: http://www.trattoriadellomoroma.com/
For romance…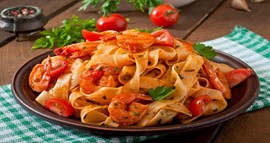 Ristorante Tema is actually in the Rione Monti area of Rome, but this is very close to Termini (about a 15-minute walk) and the quality of the food at this restaurant makes it well worth the walk! The restaurant specialises in fish and seafood, but they also offer traditional Roman dishes, such as carbonara and Carciofi alla Romana (Roman artichokes).
Where: Via Panisperna, between Piazza Santa Maria Maggiore and Via Nazionale
Restaurant website: http://www.ristorantetema.com/en/
For groups…
Ristorante Target is a large restaurant close to Piazza della Repubblica in the Termini area. It can accommodate 205 guests and is spread over two floors, with live music at weekends creating a vibrant atmosphere that we think groups will enjoy. The prices are also very reasonable and the restaurant offers all the Italian favourites, including pizza and pasta.
Where: Via Torino, off Via Nazionale and close to Piazza della Repubblica
Restaurant website: http://www.targetrestaurant.it/
If you have not yet booked your 6 Nations package to Rome and would like to find out more about our low-cost Rome rugby packages, please call a member of our sports team on 01223 637331. Alternatively, please click on one of the links below to see our latest 6 Nations rugby offers:
Italy v Scotland 2020– Prices from £639 per person
Italy v England 2020 – Prices from £639 per person
You can also send us an online enquiry by clicking here. Alternatively, if you would like to browse our range of Italy sports packages, please click here.
Search Keywords
Enter keywords below to perform a search within the events to find more relevant posts