Best bike hotels in Italy
Discover the best bike hotels in Italy, featuring residences that offer dedicated bike services and technical assistance for cyclists.
With its rolling hills and sublime landscapes, Italy is a wonderful choice for a cycling holiday in Europe. With more holidaymakers enjoying an active vacation, Italy is responding with an increase in hotels dedicated to cyclists.
If you're thinking about an Italy cycling holiday, here are the best bike hotels in Italy to choose from.
Hotel Palace (Upper Valtellina, in Bormio)
Hotel Palace is a wonderful choice is you're visiting Bormio in Lombardy, Italy. This hotel offers guided bike tours covering Stelvio, Gavia, Mortirolo and Bernina, and has a cycle repair shop. It also has a secure bike store with video surveillance, which will put your mind at rest if you are taking your own bike on your Italy cycling holiday. It also has a locker room for cyclists.
The hotel has also paid attention to the food available in its restaurant and offers guests high-energy breakfast options, and can provide energy bars and supplements. There is also a wellness centre offering sports massage (for an additional fee).
Where: Hotel Palace, Via Milano, 54, 23032 Bormio
Find out more: http://www.palacebormio.it/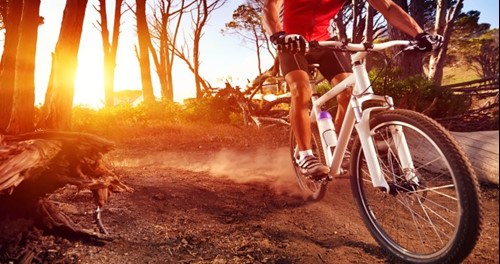 Garberhof in Malles (South Tyrol)
This 4-star hotel features some of the most beautiful chalets in South Tyrol, which are perfect for those enjoying a luxury Italy cycling holiday. The residence is set in a valley and is surrounded by lush landscape, with plenty of off-course bike trails to enjoy.
From the hotel, you can easily explore the Val Venosta, while resting assured that the hotel offers a range of facilities for a problem-free trip, including bike rental and medical services. There is also an on-site wellness centre with a sauna, swimming pool and fitness suite.
Where: Garberhof, SS40, 25, 39024 Malles Venosta
Find out more: https://www.garberhof.com/en/
Hotel Alpenblick (Sesto Dolomites)
If you're travelling to the Dolomites on your Italy cycling holiday, then we think you'll love the luxury 4-star Hotel Alpenblick. In addition to providing all the useful services for cycling enthusiasts, including safe bike storage, a repair shop and a bicycle-washing area, the hotel specialises in organising group cycling trips through the Dolomites, including mountain-bike tours that allow you to discover the best of the Sesto Dolomites, accompanied by a qualified mountain guide.
Where: Hotel Alpenblick, St Josef-Strasse 19, 39030 Sesto
Find out more: https://www.alpenblick.it/en/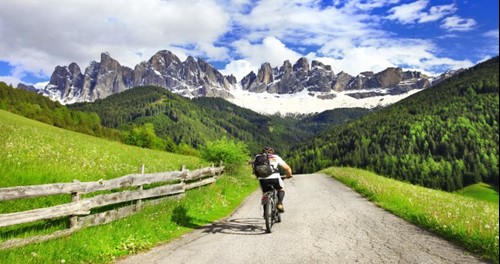 Garda Bike Hotel (Lake Garda)
The aptly named Garda Bike Hotel sits in Peschiera del Garda on the banks of the grand Lake Garda and is dedicated to cyclists, making it one of the best bike hotels in Italy. The staff here truly understand what it takes to create a wonderful resort for cyclists and many enjoy biking themselves. On site, there is a bike store with a workbench in case you need to make repairs and you can use the hotel's selection of maintenance tools too. There is also a bike hire facility and the hotel can arrange a great manner of Italy cycling tours to highly desired places, such as the Mantuan plain, the hills of Valpolicella and Moreniche, and Monte Baldo, as well as give advice about the best lakeside cycling trails.
Where: Garda Bike Hotel, Via Venezia 26, 37019 Peschiera del Garda
Find out more: https://www.gardabikehotel.com/en
Terme della Versilia Hotel Villa Undulna

(

Cinquale, not far from Forte dei Marmi)

One of the best regions for a coastal cycling holiday in Italy is the Adriatic Coast. Here, you'll find shady streets that are bike friendly, as well as country roads and coastal paths that weave between hills, creating plenty of variation to test your skills.

One of the best bike hotels in this region is Terme della Versilia Hotel Villa Undulna. The hotel, which has been awarded 4 stars, has a spa with massage services, safe bike storage and bike rental to those who are not planning to travel with their own bike. It is also nestled in a quiet park a few steps from Cinquale beach, between the Apuan Alps and Forte dei Marmi. This makes it a good choice if you are travelling to Italy with others who would prefer to lounge on the beach than pedal through the countryside!

Where: Terme della Versilia Hotel Villa Undulna, Viale Marina, 191, 54038 Cinquale

Find out more: http://www.termedellaversilia.com/

 
What to Look For in an Italy Bike Hotel
The best bike hotels in Italy tend to all feature the following services and we recommend checking that your hotel has these facilities available for the best experience:
bike rental (unless you are taking your own bike)
repair centre (or a nearby repair shop)
expert guide to help you plan excursions
pro-energy menu if they have a restaurant to help fuel your cycling trips
free maps
secure bike shed (if you are taking your own bike)
If you're thinking about a cycling holiday in Italy and would like one of our experts to plan the trip for you, taking the stress out of your sports travel plans, call us on (UK) 01223 637331 or (US) 347-594-5500. Alternatively, click here to enquire about a tailor-made Italy cycling holiday and we will get back to you within 24 hours with a personalised quote.
Search Keywords
Enter keywords below to perform a search within the events to find more relevant posts